Castle Rock Commercial Electrical Contractor
24/7 Emergency Service & Free Estimates!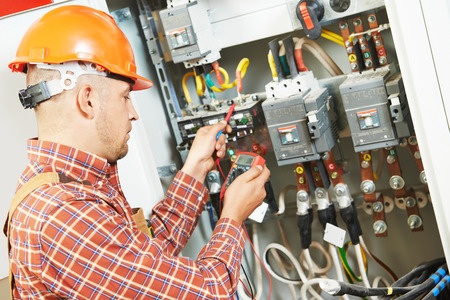 Genesis 1:3 Electric has been providing professional electric services to industrial and commercial businesses for years and has become a leading provider of solutions to electrical problems around the Castle Rock Area.
Genesis 1:3 Electric has provided the gold standard in commercial electrical services to Castle Rock business owners for years. We have efficiently and effectively helped many businesses, large and small, and we are fully committed to their total satisfaction.
Whether you need minor electrical issue work or more extensive repairs, there is no job too big or small for us to tackle and we have the proven track record and skills needed to solve it. Our courteous, experienced techs possess the knowledge and experience necessary to troubleshoot and solve electrical problems and to provide effective solutions at reasonable prices.
Whether you need a one-time commercial electrical service or a monthly electrical maintenance program, we have the license and experience to handle every project you may have anywhere in the Castle Rock area.
Outstanding service
A fair price
On time technicians
Electric tasks done correctly per code
On-call 24 hours a day, 7 days a week
Free estimates
Castle Rock Commercial Electricians
If you are a corporation, manufacturing facility, commercial or industrial facility, we can offer solutions to your electrical problems.
Genesis 1:3 Electric is a fully licensed commercial electrician and industrial electrician in Castle Rock Colorado. We provide full service on all types of repairs, maintenance and installations.
We provide electrical services for large commercial builders, large construction projects, factories and assembly lines, gas stations, restaurants, hotels and more. If you have an electrical project and you are in the Castle Rock area then we want to be your commercial electrical contractor.
We have done commercial electrical work for nursing homes, hospitals, hotels, apartment complexes, factories, churches, restaurants, banks, and real estate brokers, property managers, construction companies and many more.
Quality You Can Trust
The high-quality installations that we offer are done right the first time and we stand by our work. We are ready to handle everything electrical. Nothing is too big or too small for our company. We pride ourselves on the relationships that we build with customers, and many of our customers have been with us for many years as a result of the quality work that we provide.
Our goal is to please you as our customer and to continually work more efficiently and effectively. Call our office today to learn how we can be of assistance to your industrial or commercial business today.
Work with Experienced Electricians
Working on a tight budget or on a time crunch? Our prompt and cost-effective services will get the job done. We serve major companies and keep long-standing relationships with our customers.
For prompt electrical services of the highest quality and with the finest expertise, contact Genesis 1:3 Electric. Get your free estimate today!
We are proud to service customers throughout Castle Rock!
Our commercial electrical services include
Industrial Equipment
Assembly Line Equipment
Conveyer Systems
Generators
Electrical System Maintenance
Electrical Panels
Fuse and Breaker Repair
New Electrical Panel Installs
Safety Inspections
Industrial Lighting
Outdoor Lighting
Parking Lot Lighting
Side of Building Lighting
Metal Halide Fixtures
Warehouse Lighting
Emergency Lighting
Security Lighting
Lighting Poles
Transfer Switches
New Electrical Outlets
High Voltage Services
Ground Repair
GDI Installation
220 Outlet Installation
Load Calculations
LED Lighting
Wiring Repair and Installation
Commercial Services
Industrial
Design Build
Interior Finish
New Construction
Confined Space
Hazardous Locations Call Centers
Churches
Clean Rooms
Communication Facilities
Computer Rooms
DI Water Plants
Document Storage Facilities
Food Processing Plants
Hospitals
Hotel
Manufacturing Facilities
Painting Facilities
Refrigerated Warehouses
Retail Stores
TV Station
Vehicle Maintenance Facilities
Uninterrupted Power Supplies (UPS)
Generator Backup
DC Power Systems
400 Hertz Power
Medium Voltage
Electrical Contractors
CALL (303) 883-6562

Excellent customer service. Responded to my request for electric assistance within one hour of posting on Home Advisor, was able to do the work the following day, contacted me on the day the work was to be done to let me know he could come early. Prompt, efficient, great work. - Christine 09/25/2017

Courteous, Attentive, Thoughtful! Dustin exhibited an excellent understanding of his field! He approached the problem in stages, and isolated the location. Very pleased! - Linda G. 9/11/2014

Great service! Dustin and his team have been very responsive and helpful. Their work is great and they are very easy to work with. I would highly recommend Genesis 1:3 Electric. - Hope H. 9/24/2014